our
page on Facebook!
James has lived in Manitoba since he was born in 1971. He grew up as the youngest of six children, growing up across the street from the CN Transcona Shops. James' immigrant parents instilled strong values in him, making sure he knew how to work hard and keep his word. His first job was delivering flyers at the tender age of five. As a youth, James worked hard delivering newspapers, selling bedding plants door-to-door and shoveling snow and used the money he saved to pay for his university education.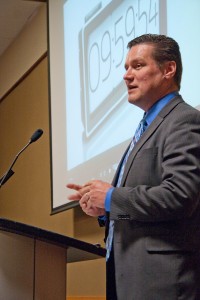 James excelled academically at Murdoch MacKay Collegiate, receiving the highest score of any public high school student in Manitoba in the national high school mathematics competition. James then attended the University of Manitoba, graduating with a degree in Computer Science with first class honours in 1993.
Soon after graduation, James joined EISI, a small software development company with just seven staff members. EISI subsequently grew to become the world's leading provider of financial and tax planning software with over 300 employees and having clients that include Scotia Bank, BMO, Investors Group and Royal Bank. As EISI grew, James' career grew with it, and he became the Chief Development Officer overseeing a team of 100 software developers. Continuing the work he started at EISI (now Advicent) over twenty years ago James now serves as their Chief Architect.
While at university, James met his wife Joanne and they married in 1997. They are the proud parents of six children and James is very active in their lives, sharing their love of sports, including hockey, basketball, and cycling. James also enjoys music and playing the piano.
A lifelong volunteer, James has always been active in his community, providing leadership on a number of local and national boards and committees. He is involved in his church community and is also a proud member of the Transcona Legion and the Transcona Rotary.
James played a leading role in the project to convert the District #4 Police & Fire Station at Pandora & Plessis into a new church building. He's proud of the result: a beautiful and functional building that is reflective of the original building's architecture while being an attractive buffer between the adjacent residential areas and industrial lands.
Dedicated and passionate about the issues that affect our community, James has lived in the Radisson constituency for over 20 years and continues to do so today. He is committed to ensuring Manitobans get good value for their tax dollars. He will work to foster a jobs-focused economy that offers opportunities for young Manitobans and hope for the future. He believes in strong family values, a patient-first health care system, an effective education system that prepares our youth for the global marketplace and a justice system that fosters safe communities.
James wants to serve as your MLA in a government that is committed to transparency and accountability. A government that is committed to providing better value for our tax dollars A government that puts the interests of Manitobans ahead of its own. A government that has a Better Plan, for a Better Future.